Communication Skills Coach
Managers and Experts Who Use Communication Skills Coaching Perform at a Higher Level:
♦ They learn the clearest way to communicate. Clear communication creates trust.
♦ They learn the best types of strategic messages to use.
♦ They know how to have mindfulness and increase their emotional intelligence.
♦ They are more confident and more productive than their counterparts.
Communication Coaches Help You with Things Like: 
→ A performance review with your boss
→ Clarifying next steps on a major project
→ Creating the message to key stakeholders
→ A yearly speech where you must set the vision for others
→ Gaining confidence and direction when speaking to superiors and supervisors
→ Creating communication strategy for teams
Learn to Express Your Thoughts in an Influential Way
In a COVID19 world, we are offering all training virtually, on Zoom or Bluejeans.
One-on-One Coaching
Some need to perfect a presentation speech. Others, the ability to voice their opinions at the office because of unfair working environments, the need for a raise, or speaking to upper-level management. Whatever the reason, we'll help you overcome the fear, address your key points, and help build upon them cohesively and effectively so others understand you the first time.
Learn to Create a Communication Strategy and an Influence Plan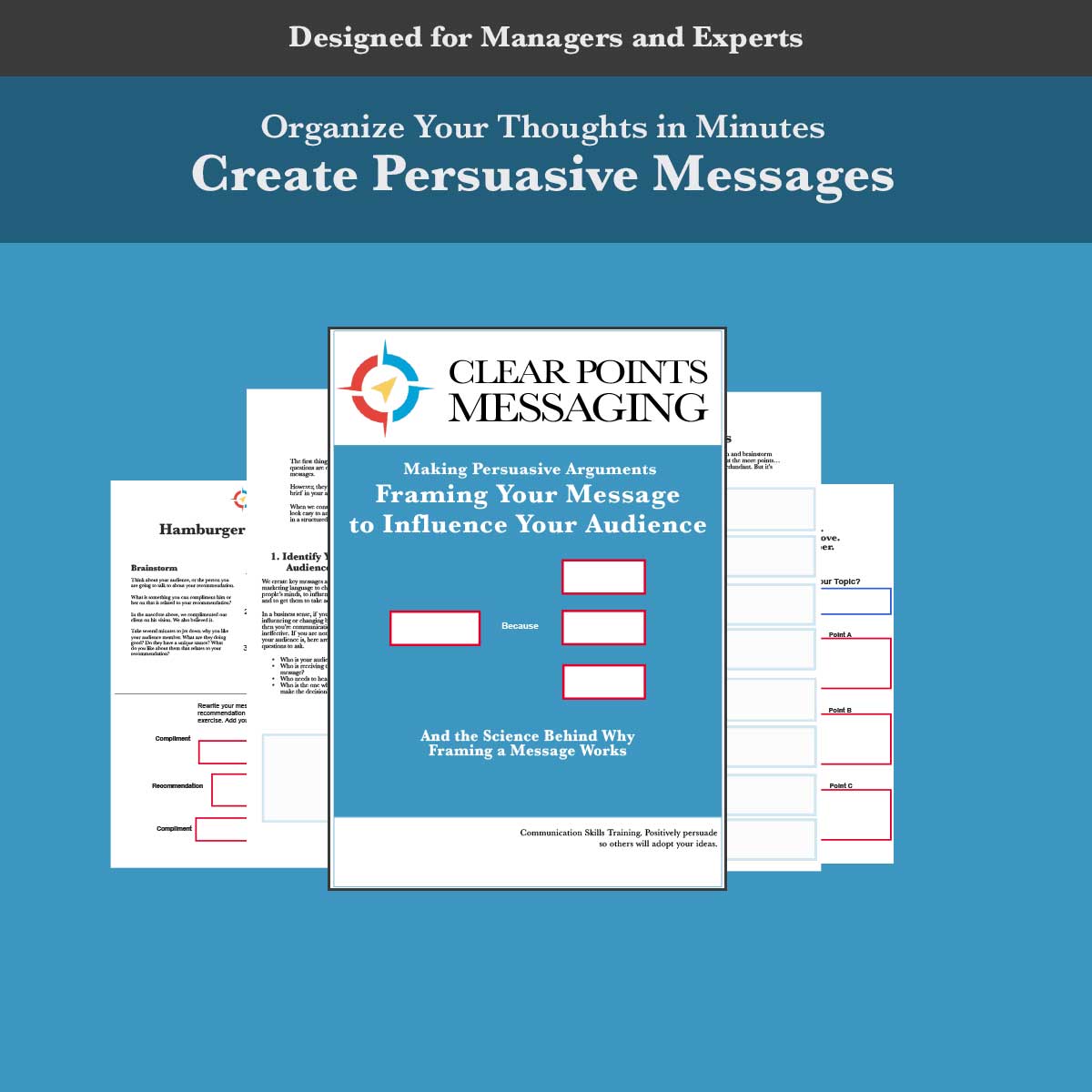 We have curriculum and one-on-one sessions where you learn the elements of sound, influential communication.
How to answer fundamental communication questions
WIIFM Messaging
Framing your communication
Persuasion points
Influence Tactics
Delivering Your Message
Create an Influence Plan
Steps to avoid jargon in your communication
Lessons on staying on message
Read a Case Study to See How We
Might Help You
What Do Communication Coaches Focus On?
A communication coach offers more than just public speaking and presentation skills. A communication coach should help you implement skills that enable you to lead others through your communication. Leadership communication prepares you for the high-stakes situations needed in business and the emotions that come with it. 
With the help of a communication coach, you'll add a number of skills to your communication repertoire, such as:
Effective message content
Confidence
Clear and concise speaking skills
Nonverbal and verbal skills
Ability to communicate in a crisis
Ability to communicate across multiple channels
Ability to deliver effective presentations
Self-reflection
Active listening techniques
Prepare for difficult conversations
Ability to provide feedback during conversations
---
More importantly, communication coaches help you stay focused on the task at hand:
Focus on your objectives 

Develop key messages 

Navigate office politics

Ensure you understand your mission

Make decisions based on your goals and values
Communication skills coaches should teach you through real projects you're working on, and by crystallizing your thoughts and clarifying points that build trust with others.
Those who use coaches have an objective resource to discuss ideas, decisions, and how to approach situations. They begin to see new and alternative ways to approach crucial conversations and delicate situations. They can stay focused on goals and objectives. 
But overall, coaches should help their clients focus on the fundamentals of excellent communication. 
Why Focus on Emotional Intelligence?
When we have an important meeting at work — whether it is a performance review, an important presentation, or even a pitch of a new project — we also have feelings associated with what we are about to communicate.
The reason is that the situation is important to us.
If you are walking into a performance review and your work ethic or skills are in question, it will be challenging to deliver your communication without emotion. It also will be challenging to understand which strategic message you should use and when to use them.
Without the proper mindful approach, it isn't easy to provide the leadership communication demanded in a high performer's world. Your emotional state and intellect will be the fuel that pushes your communication forward. And if it has the wrong fuel, you are headed for trouble.
Communication coaches should be able to listen to the problem you face at work and understand the emotions you have around the issue.
The Science Behind Communication
Scientists have studied social shortcuts that help humans make decisions for decades. These principles should be taught and used in your communication.
A communication coach should be more than someone teaching you stage presence. They should help you become a trustworthy force in your work environment. Someone others can trust and understand instantly.
We do this by mixing clear, concise communication with social cues that help someone naturally make a decision.
Boost Your Confidence and Professionalism with the Help of a Communication Coach
If you find that you're fearful or anxious to communicate at work, a communication coach can help alleviate those emotions and help you master the art of communication.
They'll help you build and practice the skills you need to communicate effectively and accomplish your goals with ease.
Do you want to learn how we can help you master the art of communication and feel more confident every time you speak? Contact us to take your communication skills to the next level!
Get Started
When you mix clear communication with emotional intelligence and persuasion skills, you're leadership ability dramatically increases.
Contact us to learn more.